"Transit mall" car-free mall at Kokusai street
Explaination of transit mall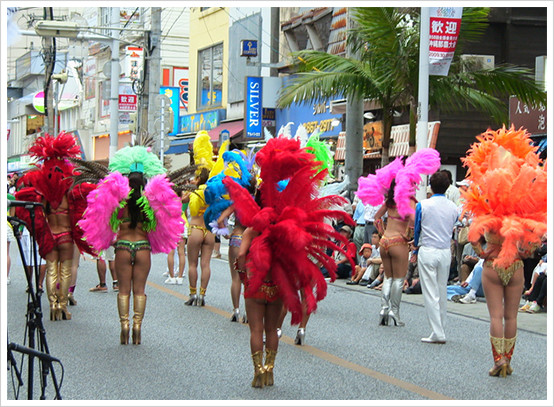 Implementation guidance of transit mall
Zone of road traffic regulation
From intersection of Prefecture north (Palette Kumoji) to

intersection of Saion bridge(Makishi station)
During road traffic regulation you cannot go into Kokusai street, but there are 2 points you can cross Kokusai street. (From Grand Orion street to opposite, and from Ukishima street to Paradise street) In addition, street along Kokusai stree such as Okiei street and Ichigin street can be gone in front of Kokusai street, you can use parking lot near there.
Schedule
Every Sunday from 12pm to 18pm (6hours)
12:00 

Guidance of road traffic regulation

12:30 

Strat car-free mall

17:30 

Guidance of finishing road traffic regulation

18:00 

Quittance of road traffic regulation
Alternative path of local bath
During transit mall, any vehicles including local bus crossed Kokusai street need to go by a roundabout route to the street along Kumoji river, route 58, or Kainan street.
Welcome any performers at transit mall!
There are 10 performance area at Kokusai street in terms of transit mall.  We got permission of right of using road to Okinawa prefecture, so it is illegal to use other area for performance. In addition, you need to register in advance to perform at transit mall in order to escape from trouble among shops on Kokusai street and any other passengers.  If you are intersted in it, please contact to us by filling out contact form!